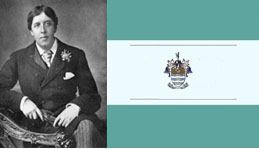 Four Letters from Oscar Wilde to Lord Alfred Douglas
Text of the Letters
Wilde to Douglas, probably 9 August 1894
16 Tite Street [London]
Dearest Boy,

I hope to send you the cigarettes, if Simmonds will let me have them. He has applied for his bill. I am overdrawn £41 at the bank: it really is intolerable the want of money. I have not a penny. I can't stand it any longer, but don't know what to do. I go down to Worthing tomorrow. I hope to do work there. The house, I hear, is very small, and I have no writing room. However, anything is better than London.

Your father is on the rampage again – been to Café Royal to enquire for us, with threats etc. I think now it would have been better for me to have had him bound over to keep the peace, but what a scandal! Still, it is intolerable to be dogged by a maniac.

When you come to Worthing, of course all things will be done for your honour and joy, but I fear you may find the meals, etc., tedious. But you will come, won't you? at any rate for a short time – till you are bored.

Ernesto has written to me begging for money – a very nice letter – but I really have nothing just now.

What purple valleys of despair one goes through! Fortunately there is one person in the world to love. Ever yours

Oscar


⁜ ⁜ ⁜



Wilde to Douglas, probably 10 August 1894

[The Haven, Worthing]

Letter – No.II.
Dearest Bosie,

I have just come in from luncheon. A horrid ugly Swiss governess has, I find, been looking after Cyril and Vyvyan for a year. She is quite impossible.

Also, children at meals are tedious.

Also, you, the gilt and graceful boy, would be bored.

Don't come here. I will come to you. Ever yours

Oscar


⁜ ⁜ ⁜



Wilde to Douglas, 8 September 1894 (The 'Concert Letter')

[The Haven, Worthing]

My own dear Boy,

Your sweet letter arrived this morning, and this moment I have received your delightful telegram – delightful because I love you to think of me. What do you think of three days at Dieppe? I have a sort of longing for France, and with you, if you can manage to come (I could only manage three days, as I am so busy).

I went yesterday up to town for the afternoon, lunched with George Alexander at the Garrick, got a little money from him, and returned by the 4.30 for dinner, so I can pay my rent, and Cyril's (little wretch and darling) school-fees. I dare not lodge the money in the bank, as I have overdrawn £40, but I think of hiding gold in the garden.

Could you meet me at Newhaven on the 15th? Dieppe is very amusing and bright. Or would you come down here first? Say on Thursday: and we could go on?

I saw Gatty, by chance, as I was driving through Pall Mall. He stopped my cab and we had a long chat about you, of course. He is one of your many admirers. Last night (see other letter) you, and I, and the Mayor figured as patrons of the entertainment given by the vagabond singers of the sands. They told me that our names, which have been placarded all over the town, excited great enthusiasm, and certainly the hall was crammed. I was greeted with loud applause, as I entered with Cyril. Cyril was considered to be you.

Dear boy, this is a scrawl, is it not? I find farcical comedies admirable for style, but fatal to handwriting.

Do write to me, and do come to France. Is Basil here? If so, of course come here. With fondest love, ever devotedly yours

Oscar


⁜ ⁜ ⁜



Wilde to Douglas, 10 September 1894 (The 'Storm Letter')

[The Haven, Worthing]

My own dearest Boy,

How sweet of you to send me that charming poem. I can't tell you how it touches me, and it is full of that light lyrical grace that you always have – a quality that seems so easy, to those who don't understand how difficult it is to make the white feet of poetry dance lightly among flowers without crushing them, and to those 'who know' is so rare and so distinguished. I have been doing nothing here but bathing and playwriting. My play is really very funny: I am quite delighted with it. But it is not shaped yet. It lies in Sibylline leaves about the room, and Arthur has twice made a chaos of it by 'tidying up'. The result, however, was rather dramatic. I am inclined to think that Chaos is a stronger evidence for an Intelligent Creator than Kosmos is: the view might be expanded.

Percy left the day after you did. He spoke much of you. Alphonso is still in favour. He is my only companion, along with Stephen. Alphonso always alludes to you as 'the Lord', which however gives you, I think, a Biblical Hebraic dignity that gracious Greek boys should not have. He also says, from time to time, 'Percy was the Lord's favourite,' which makes me think of Percy as the infant Samuel – an inaccurate reminiscence, as Percy was Hellenic.

Yesterday (Sunday) Alphonso, Stephen, and I sailed to Littlehampton in the morning, bathing on the way. We took five hours in an awful gale to come back! did not reach the pier till eleven o'clock at night, pitch dark all the way, and a fearful sea. I was drenched, but was Viking-like and daring. It was, however, quite a dangerous adventure. All the fishermen were waiting for us. I flew to the hotel for hot brandy and water, on landing with my companions, and found a letter for you from dear Henry, which I send you: they had forgotten to forward it. As it was past ten o'clock on a Sunday night the proprietor could not sell us any brandy or spirits of any kind! So he had to give it to us. The result was not displeasing, but what laws!

A hotel proprietor is not allowed to sell 'necessary harmless' alcohol to three shipwrecked mariners, wet to the skin, because it is Sunday! Both Alphonso and Stephen are now anarchists, I need hardly say.

Your new Sibyl is really wonderful. It is most extraordinary. I must meet her.

Dear, dear boy, you are more to me than any one of them has any idea; you are the atmosphere of beauty through which I see life; you are the incarnation of all lovely things. When we are out of tune, all colour goes from things for me, but we are never really out of tune. I think of you day and night.

Write to me soon, you honey-haired boy! I am always devotedly yours

Oscar



Dating the Letters
These are the only four letters written to Bosie during the Worthing period that survive, but there were certainly others. One lost letter is referred to in the 'concert letter'; and there must have been letters relating to the arrangements for Bosie's first and second visits to Worthing.

Unfortunately Oscar Wilde rarely dated his letters, and it is often possible to calculate only approximately when they were written.

Sometimes, however, internal or other evidence allows letters to be dated more or less exactly, and happily this applies to the letter that Wilde wrote to Bosie the day before he set off for Sussex and to the three surviving letters to Bosie from Worthing.

Oscar almost certainly arrived in Worthing on Friday 10 August. As we saw in Chapter 2, Constance wrote to Lady Mount Temple on Tuesday 7 August to tell her that she had arrived in Worthing, adding 'Oscar comes, I believe, on Friday'. Since the date lay in the future, we cannot be certain that he did arrive on the Friday, but he was certainly at the Haven by Saturday 11 August, when Arthur Humphreys came down for the day. If the 10 August date for Oscar's arrival is correct, then the 'probable' dates given for the first two letters printed in this appendix are exact; if that date is not correct, the dates are at most a day or two out.

In my article about Bosie's stay in Worthing in The Wildean, No. 39 (July 2010), I christened the third and fourth of the letters printed here the 'concert letter' and the 'storm letter', for ease of reference; and the same terms are used in this book.

In his article 'The Wildes in Worthing: Part 4, Two Letters Newly Dated' (The Wildean, No. 8, January 1996), John Wagstaff dated the 'concert letter' to Saturday 8 September. This dating is unassailable, since Wagstaff matched the event to a report in the Worthing Gazette of a concert given by the Olympian Quartet and 'various [other] performers' on Friday 7 September. This was certainly the same occasion, since the brief report refers to the concert's having been under the 'patronage of the Mayor, Lord William [sic] Douglas and Mr Oscar Wilde' and describes the Olympian Quartet as 'four vocalists who have given performances on the sea-front during the season'. In his letter Wilde refers to the Olympian Quartet as 'the vagabond singers of the sands'.

Further proof that the 'concert letter' was written on Saturday 8 September is that Wilde, in proposing that he and Bosie take a trip to Dieppe on 15 September, suggests that Bosie first come to Worthing – 'say on Thursday'. He is clearly referring to the week immediately following.

Wagstaff was, however, incorrect in his dating of the 'storm letter'. He turned to the weather records of the summer of 1894 in search of a Sunday that fitted. However, he was following Rupert Hart-Davis's conjectural dating of the letter to '? August 1894' in The Letters of Oscar Wilde (1962) and thus did not examine the weather records for September. Instead, he settled on the only Sunday in August that provided appropriate weather – 12 August – and dated the letter to 13 August.

>This mid-August date is contradicted by several pieces of irrefutable evidence that were not available to Wagstaff, who was writing in the belief that Wilde came to Worthing on 1 August and not, as we now know, on or about 10 August. In addition Wagstaff was not aware of the evidence that Bosie arrived on 14 August. Finally, Alphonse Conway's witness statement in which he says that he met Wilde 'about 20 August' had not yet come to light.
The 'storm letter' makes it clear that Wilde's friendship with Alphonse was well-established by the time the letter was written, and that Bosie's first stay had ended several days earlier. So clearly a much later date than 13 August needed to be found.

Wagstaff's enquiries of the Met Office had eliminated the possibility of any other Sunday in August. Therefore the 'dangerous adventure' must have taken place on a Sunday in September. My own enquiry of the Met Office, about Worthing's weather in September 1894, produced this response, in an e-mail from Steve Jebson on 23 February 2011:

The only Sunday in September 1894 that really fits was Sunday 9 September. On this day high pressure was situated to the north-west of the British Isles, with low pressure centred over northern Germany. This situation produced a strong north or north-easterly flow of wind across the British Isles. Looking at observations from a number of resorts along the south coast of England, the weather on this day was fairly blustery with sunshine and blustery showers, some of which were heavy with thunder. The wind along the English Channel was strong, blowing at Force 5 (fresh breeze) to Force 7 (moderate gale) at times during the evening. The sea state was classed as either rough or very rough during the evening, especially to the east of the Isle of Wight.

This cohered exactly with the events of the day as Wilde described them. We know from Son of Oscar Wilde (1954), the autobiography of Wilde's younger son, Vyvyan, that their father took him and Cyril out sailing only 'when it was not too breezy' and – even though Alphonse and Stephen were older and were doubtless experienced sailors – Wilde would not have been so irresponsible as to go out to sea had the weather outlook been dangerously stormy. Indeed we know from the 'storm letter' that they set off in the morning and bathed on the way to Littlehampton – at a time that day when, according to the Met Office summary, there was a mixture of sunshine and blustery showers in that area. Wilde's account and the Met Office report are then again in accord in indicating that the storm blew up in the evening. There could be little doubt that it was on 9 September that they were caught in a storm.

We know that Wilde and Bosie were in Dieppe on Sunday 16 September; and Sunday 23 September could also be ruled out, since a letter written as late as Monday 24 September would not have included references to Percy's departure and to Earnest's being 'not shaped yet'.

However I wanted to be absolutely certain that 2 September could not be a candidate for the day of the storm, and made a further enquiry of Steve Jebson, who responded on 28 February 2011 as follows: 'There were no reports of any particularly stormy weather on Sunday 2 September 1894. The wind direction was from the east or north-east and blowing at Force 4 (moderate wind) or Force 5 (fresh wind). The sea states during the evening in the eastern Channel were moderate to heavy swell.' A fresh wind and a moderate to heavy swell do not match the severe and dangerous conditions Wilde describes on the night of the storm, so 2 September could also be ruled out.
The 'concert letter' and the 'storm letter' were thus written two days apart, indicating a concentrated burst of epistolary activity between Wilde and Bosie at this point. This made perfectly good sense. Constance and the children were returning to London on 12 September, so the Haven would soon be free of family encumbrances; and Wilde was keen to have Bosie back in Worthing.

To summarise the activities of that weekend. Wilde and Cyril went to the concert on the Friday evening. On Saturday, Bosie's 'sweet letter' and 'delightful telegram' arrived, and Wilde wrote the 'concert letter'. Sunday was the day Wilde, Alphonse and Stephen got caught in the storm. Then, on the Monday, a 'charming poem' arrived from Bosie, and Wilde wrote the 'storm letter', in which he praises the poem and recounts his and the boys' adventure of the previous night.

There was a third letter which has not survived. We know this from the interpolation '(see other letter)' in the 'concert letter'. This could refer only to a letter which was written at the same time and probably enclosed in the same envelope.

Could this third letter be the 'storm letter'? The storm took place the day after the 'concert letter' was written, so this could be the case only if the 'concert letter' was not posted till the Monday and the words '(see other letter)' were a last-minute postscript written above the line of the rest of the text. However the William Andrews Clark Memorial Library provided me with a scan of the 'concert letter', and the bracketed words turned out to form part of an unbroken and continuous passage in Wilde's handwriting – and therefore could not have referred to a letter written two days afterwards.

Since the 'concert letter' and the missing letter were almost certainly Oscar's first letters to Bosie after Bosie left Worthing in early September, it might seem odd that Oscar's news about progress with Earnest and about Percy's departure appeared only in the subsequent 'storm letter'. These omissions, however, can be explained by the fact that the 'concert letter' was 'a scrawl', written on a day when Wilde did not have time for a leisurely narrative – he rattles through his various points at high speed – and that its main purpose was to propose the trip to Dieppe. It is curious, however, that the 'storm letter' includes no further reference to the Dieppe plan, set out two days earlier, with Wilde ending the letter merely by expressing the hope that Bosie will write soon.
(These four letters from The Complete Letters of Oscar Wilde – Holland & Hart-Davis, eds, Fourth Estate, 2000 – appear by kind permission of Merlin Holland.)